The program of this sixth edition of "Little Things Make a Good Post": Lauren & Mae are still BFF (in case you had doubts 😉 ), Lauren's Book Club, More Variety's "Actors on Actors" pictures and the Hungarian version of TAFAIC
👯 Lauren & Mae are still BFF 👯
Mae was a guest on this week's episode of The Gasp, Sam Pancake and Andy Geo's podcast and, talked about her friendship with Lauren:
"She's the most amazing person I've ever met. I mean I literally need her [… ] I need her. I like desperately need her. She's such a figure to me in every way, not just maternal… She's the best friend, she's my acting idol, she's my health guru. She just knows everything. She's so wise! [… ] She's the most capable, intelligent, unbelievably talented like writer not just actor, human being. She's just someone I can be around all the time and thank God we are so close. I see her all the time [… ]  She's like one of my everyday people. I genuinely don't know what I would do without her."
Click here to hear more from Mae on Lauren: The Gasp! – Episode 23: Mae Whitman!
📚 Lauren's Book Club 📚
Lauren's latest book recommendation is Jen Smith's new novel "Windfall":
This book is so wonderful, hopeful, funny, moving. Pre-order and/or go meet Jen at one of her signings!
💚L https://t.co/rINHa8lfLl

— Lauren Graham (@thelaurengraham) April 4, 2017
One month until Windfall comes out, and here's where I'll be — would love to see some of you along the way! pic.twitter.com/ZaTYy8Fu8S

— Jennifer E. Smith (@JenESmith) April 4, 2017
"Windfall" is a "romantic story of hope, chance, and change". The book will be released on May 2nd. More info and links to pre-order here: Windfall by Jennifer E. Smith
📸 Variety's "Actors on Actors" 📸
 Constance Zimmer recently shared on Instagram some behind the scenes shots of the photoshoot she and Lauren did for Variety's "Actors on Actors"

  📖 Gyorsan elhadarom 📖
A Szívek szállodájától a Szívek szállodájáig és ami a kettő között történt
Good news Hungarian fans, Lauren's latest book will be released on April 18th in Hungary by Gabo. You can already pre-order "Gyorsan elhadarom" here: Lauren Graham: Gyorsan elhadarom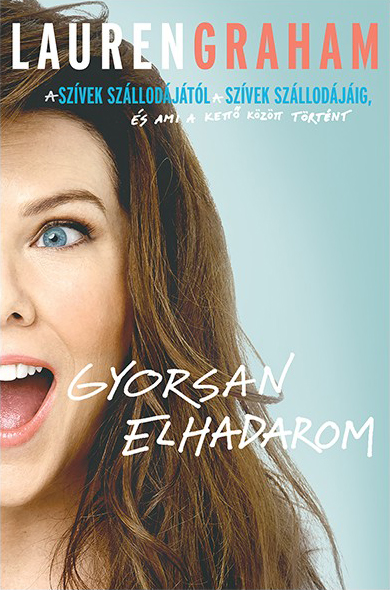 😍 CUTE GIF OF THE POST 😍
(because that post wasn't long enough 😉 )