The program of this second edition of "Little Things Make a Good Post": more MAX Interviews (video and audio), new pictures and a foreign edition of Someday, Someday, Maybe 🙂
MAX
Two more interviews Lauren did to promote MAX were recently put online.
First, she talked to Good Day New Mexico:
She also was a guest on "Be Humane" on Pet Life Radio. You can listen to the interview here – click on "Listen now" or "Download" (the Itunes link isn't available at the time this amazing post is written). Lauren's interview begins around 8'22.
With all the promotion done for MAX, we thought it could be useful to have a special page which includes everything. You'll find it here: lauren-online.net/Max
NEW PICTURES
We've added a few new pictures from MAX premiere, new stills from the movie and a backstage picture from Lauren's appearance on Conan: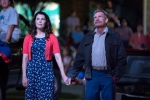 SOMEDAY, SOMEDAY, MAYBE
Lauren's first novel is available in Turkey since June 15. The book, published by Pegasus, is titled Bir Gün, Belki Bir Gün (which I guess could mean "Someday, Someday, Maybe"). You'll find all the info about it here: Bir Gün, Belki Bir Gün
You can also take a look at all the pretty covers of the foreign editions published so far here: Someday, Someday Maybe Covers
BORING WEBSITE NEWS
– The 2015 press section has been added to the website: 2015: Saying Goodbye to Parenthood
– The "Luke and Lorelai Favorite Scenes" poll will be back on Monday morning.

(this gif is here only because it's pretty)