This is a list of books, we know Lauren read: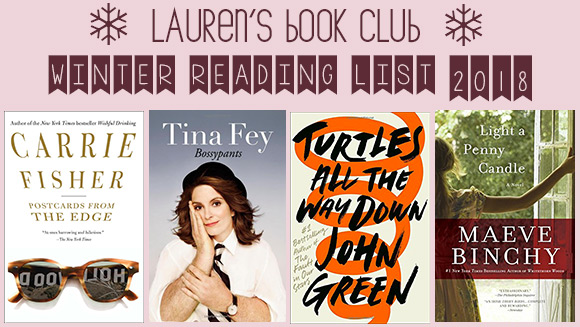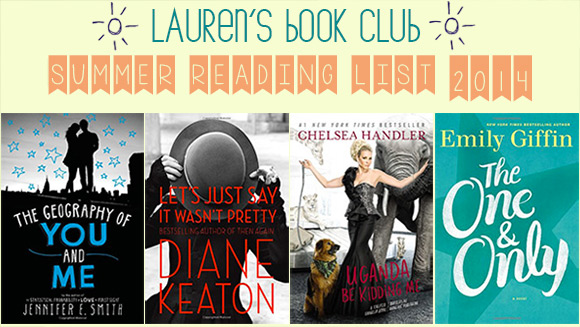 Lauren's latest recommendations:
Book of the Monthish Club: Claudia Silver to the Rescue. Best thing I've read in ages. Out tomorrow in stores, or online now!

— Lauren Graham (@thelaurengraham) June 18, 2013
"Claudia Silver to the Rescue" by Kathy Ebel

Book description: If fate sent you an email, would you answer? In this gutsy debut novel, flawed but unsinkable Claudia Silver cuts a wide comic swath through 1990s New York City in her misguided attempts to find love and happiness. Estranged from her bohemian Brooklyn family and fired for an impropriety at work, Claudia Silver is officially in over her head. When her younger sister lands on her doorstep urgently in need of help, twenty-something Claudia desperately wants to offer the rescue that she herself has longed for. But Claudia missteps dramatically, straight into a disastrous love affair that disrupts three very different New York households. Ultimately, she discovers the resilient nature of love where she least expects it—among her own family.
Claudia Silver to the Rescue is the firece yet tender chronicle of the many humiliations and occasional triumphs of a young woman determined to wrest her identity from the spectacular wreckage of her mistake. Uncomfortably hilarious, quintessentially human, Claudia is an unforgettable heroine who shoots for the stars and hits the ceiling.
I loved it."@jenesmith: My new book, THIS IS WHAT HAPPY LOOKS LIKE, is out today. Thanks for all the lovely messages! #happylookslike"

— Lauren Graham (@thelaurengraham) April 2, 2013
"This Is What Happy Looks Like" by Jennifer E. Smith



Book description: If fate sent you an email, would you answer?
When teenage movie star Graham Larkin accidentally sends small town girl Ellie O'Neill an email about his pet pig, the two seventeen-year-olds strike up a witty and unforgettable correspondence, discussing everything under the sun, except for their names or backgrounds.
Then Graham finds out that Ellie's Maine hometown is the perfect location for his latest film, and he decides to take their relationship from online to in-person. But can a star as famous as Graham really start a relationship with an ordinary girl like Ellie? And why does Ellie want to avoid the media's spotlight at all costs?
Need something to read? I just finished Tell the Wolves I'm Home, by @carolrifka. AMAZING.

— Lauren Graham (@thelaurengraham) January 31, 2013
"Tell the Wolves I'm Home" by Carol Rifka Brunt



Book description: 1987. There's only one person who has ever truly understood fourteen-year-old June Elbus, and that's her uncle, the renowned painter Finn Weiss. Shy at school and distant from her older sister, June can only be herself in Finn's company; he is her godfather, confidant, and best friend. So when he dies, far too young, of a mysterious illness her mother can barely speak about, June's world is turned upside down. But Finn's death brings a surprise acquaintance into June's life—someone who will help her to heal, and to question what she thinks she knows about Finn, her family, and even her own heart.[…]
An emotionally charged coming-of-age novel, Tell the Wolves I'm Home is a tender story of love lost and found, an unforgettable portrait of the way compassion can make us whole again.
Lauren's best-loved book (Good Housekeeping, Feb.2013):
"The Member of the Wedding" by Carson McCullers



Book description: Here is the story of the inimitable twelve-year-old Frankie, who is utterly, hopelessly bored with life until she hears about her older brother's wedding. Bolstered by lively conversations with her house servant, Berenice, and her six-year-old male cousin — not to mention her own unbridled imagination — Frankie takes on an overly active role in the wedding, hoping even to go, uninvited, on the honeymoon, so deep is her desire to be the member of something larger, more accepting than herself. "A marvelous study of the agony of adolescence" (Detroit Free Press), The Member of the Wedding showcases Carson McCullers at her most sensitive, astute, and lasting best…
Books that mean a lot to Lauren according to Variety
"A Tree Grows in Brooklyn" by Betty Smith



Book description: The beloved American classic about a young girl's coming-of-age at the turn of the century, Betty Smith's A Tree Grows in Brooklyn is a poignant and moving tale filled with compassion and cruelty, laughter and heartache, crowded with life and people and incident. The story of young, sensitive, and idealistic Francie Nolan and her bittersweet formative years in the slums of Williamsburg has enchanted and inspired millions of readers for more than sixty years. By turns overwhelming, sublime, heartbreaking, and uplifting, the daily experiences of the unforgettable Nolans are raw with honesty and tenderly threaded with family connectedness — in a work of literary art that brilliantly captures a unique time and place as well as incredibly rich moments of universal experience.
"A Good Man is Hard to Find and Other Stories" by Flannery O'Connor



Book description: The collection that established O'Connor's reputation as one of the american masters of the short story. The volume contains the celebrated title story, a tale of the murderous fugitive The Misfit, as well as "The Displaced Person" and eight other stories.
"The Corrections" by Jonathan Franzen



Book description: After almost fifty years as a wife and mother, Enid Lambert is ready to have some fun. Unfortunately, her husband, Alfred, is losing his sanity to Parkinson's disease, and their children have long since flown the family nest to the catastrophes of their own lives. The oldest, Gary, a once-stable portfolio manager and family man, is trying to convince his wife and himself, despite clear signs to the contrary, that he is not clinically depressed. The middle child, Chip, has lost his seemingly secure academic job and is failing spectacularly at his new line of work. And Denise, the youngest, has escaped a disastrous marriage only to pour her youth and beauty down the drain of an affair with a married man-or so her mother fears. Desperate for some pleasure to look forward to, Enid has set her heart on an elusive goal: bringing her family together for one last Christmas at home.
Books she has read
"Then Again" by Diane Keaton




Book description: "Mom loved adages, quotes, slogans. There were always little reminders pasted on the kitchen wall. For example, the word THINK. I found THINK thumbtacked on a bulletin board in her darkroom. I saw it Scotch-taped on a pencil box she'd collaged. I even found a pamphlet titled THINK on her bedside table. Mom liked to THINK."
So begins Diane Keaton's unforgettable memoir about her mother and herself. In it you will meet the woman known to tens of millions as Annie Hall, but you will also meet, and fall in love with, her mother, the loving, complicated, always-thinking Dorothy Hall. To write about herself, Diane realized she had to write about her mother, too, and how their bond came to define both their lives.[…]
Lauren mentioned this "beautiful" book during her appearance on Ellen in September 2012. You can watch it here
"American on Purpose" by Craig Ferguson



Book description: In American on Purpose, Craig Ferguson delivers a moving and achingly funny memoir of living the American dream as he journeys from the mean streets of Glasgow, Scotland, to the comedic promised land of Hollywood. Along the way he stumbles through several attempts to make his mark—as a punk rock musician, a construction worker, a bouncer, and, tragically, a modern dancer…
Lauren read excerpts of the book to Craig Ferguson during her appearance on his show in October 2009 claiming she has spotted herself several times in his biography.
"Find me" by Rosie O'Donnell



Book description: Part memoir, part mystery, 'Find Me' is a tale of a friendship between a troubled young woman and a celebrity obsessed with helping her. Rosie O'Donnell's candid memoir is a topsy-turvy tale of mistaken identities and strange psychological illnesses that may or may not exist.
Lauren mentioned the book during her appearance on Rosie's show in June 2002.
"My Life So Far" by Jane Fonda



Book description: America knows Jane Fonda as actress and activist, feminist and wife, workout guru and role model. In this extraordinary memoir, Fonda shows that she is much more. From her youth among Hollywood's elite to her film career and her activism today, Fonda reveals intimate details and personal truths she hopes "can provide a lens through which others can see their lives and how they can live them a little differently." Surprising, candid, and wonderfully written, My Life So Far is filled with insights into the personal struggles of a woman living a remarkable life.
"The Year of Magical Thinking" by Joan Didion



Book description: From one of America's iconic writers, a stunning book of electric honesty and passion. Joan Didion explores an intensely personal yet universal experience: a portrait of a marriage–and a life, in good times and bad–that will speak to anyone who has ever loved a husband or wife or child.
"Working Stiff" by Grant Stoddard



Book Description: A twenty-two-year-old perennial virgin, Englishman Grant Stoddard didn't know what to do with his life in America—until he won an X-rated online contest, the prize being intercourse with an infamous married sex columnist. He consequently wound up delivering mail at Nerve.com but accidentally found his calling as a gonzo sex reporter who would try any and every lurid activity his crafty coworkers devised—from offering himself up as man-bait at a hard-core gay bar to attending an elite orgy, to being a hapless participant in a sexual home invasion—all the while wishing he could be safely tucked in bed.
Lauren read this book at LA airport when she waited for her flight to Cancun in March 2008.
"The Score: The Ultimate Quiz to Test Who He Is" by Allison Castillo

Book description: Is he an A+ perfect catch? Maybe a run-of-the-mill C? Or a capital-F Failure? For every woman who wonders if she's found Mr. Right, here's the fabulously funny pop quiz for rating that man in her life-from first dates and birthdays to sex and marriage. Whether she's dating him, married to him, obsessed with him, living with him, pining for him, or wondering if he's even worth the trouble, she can now grade her guy on: style, intelligence, sense of humor, eating habits, social etiquette, romance, sex, career, intimacy, friends, marriage and kids and more…
Lauren went to the release party and is also mentioned in the foreword of the book.

"Catcher in the Rye" by J. D. Salinger

Book description: Anyone who has read J.D. Salinger's New Yorker stories–particularly A Perfect Day for Bananafish, Uncle Wiggily in Connecticut, The Laughing Man, and For Esme With Love and Squalor–will not be surprised by the fact that his first novel is full of children. The hero-narrator of The Catcher in the Rye is an ancient child of sixteen, a native New Yorker named Holden Caulfield.[…]There are many voices in this novel: children's voices, adult voices, underground voices-but Holden's voice is the most eloquent of all. Transcending his own vernacular, yet remaining marvelously faithful to it, he issues a perfectly articulated cry of mixed pain and pleasure. However, like most lovers and clowns and poets of the higher orders, he keeps most of the pain to, and for, himself. The pleasure he gives away, or sets aside, with all his heart. It is there for the reader who can handle it to keep.
"Catcher in the Rye" is something I read when I was probably ten or eleven, and then I reread it again years later. So that's a favorite of mine. Later, I felt disappointed by Catcher in the Rye, 'cause I feel like I read it at the perfect time where I was like, "That's me! I can't believe somebody wrote a book about me."  Smash Event, 2003
"Elegance" by Kathleen Tessaro

Book description: Louise C. wants what Jackie O had … Unhappy with her looks, her life, and her empty marriage, Louise Canova needs help — and she finds it in a secondhand bookstore. A forty-year-old encyclopedia of style titled Elegance, this slim volume by formidable French fashion expert Madame Dariaux promises to transform even the plainest of women into creatures of poise and grace. It is a fairy godmother in print, an A-to-Z manual with essential advice that Louise vows to take to heart. But within its pages lie not only clues from her past, but also powerful lessons for the future. And as the old Louise gives way to the stunning new, she's about to find out that there's more to every life than what appears on the surface … and that everything, even elegance, has its price.
The book was mentioned here.
Lauren also went to the launch party of the book "W shorts" in 2003 but we haven't found any information about it.
As Lauren mentioned in the Ask A Star video she was reading reading Ethel Merman's biography at that time.
Lauren Graham's grandmother, Kathryn Grant, wrote a book in the early 90s. Lauren is mentioned twice in the book, once when she's mentioned as the new granddaughter and once when Lauren flies in from Dallas for a family meeting.
"Making the most of the best of your life" by Kathryn Grant

Book description: "Far from being a curse, could it be that aging may be one of life's greatest gifts?" So sums up the outlook of Kathryn Grant, mother of four and grandmother of five, about entering the era sometimes called the "mature" years. Grant, who steps into a new phase of life when she and her husband, Worth, return to the U.S. from careers as missionaries in Japan, becomes determined not to rust out and throws herself into a whole new stateside career as she settles into "seniorhood." From her own experiences, Grant offers a treasurehouse of inspiration and guidance for making the most and the best of the years ahead.[…]